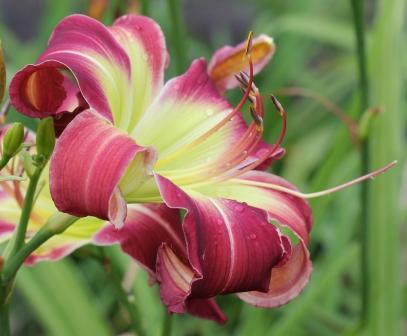 Greetings
My name is Charmaine Payne, after retiring from the military in 2011, I moved Fairyscape Daylilies to the Ottawa area. While in the military, I always dreamed of one day opening my own daylily business. I enjoy the burst of colours that arrives each and every day from June to September. Seeing my own seedlings bloom for the first time holds the same joy. I have been working towards the Big and Tall, the very Small for fairy gardens, unique bright colour, curl and cascade. I love green throats, dashes, freckles and splashes of colours within a bloom, browns, fabulous eyes whether they be washed, patterned, bold, dark or bright.

The price list has been updated and over the next few weeks I will be adding photos of the various daylilies. So, with that in mind, I will endeavor to populate the website with needed photos. In 2019, many daylilies will be incorporated into the list. This also means that many will have to go. Last summer was again very hot and dry, seed production was difficult and the ability of the plants to increase very limited. This winter we have had great snow coverage and with it, moisture for the soil in the spring. Lets hope for a moist spring and summer.
I am taking orders for the 2019 year now. To place your order just send an email to Fairyscapedaylilies@bell.net to ensure there is stock available. If you have not heard from me within 24 hours please hit resend. At least a few times a year the server appears to redirect my emails to a spam box. So please, please persist! To any that may have had this issue please accept my most humble apologies!

The photos are from my garden. I do not adjust for colour or hide/improve the appearance of the flowers. The only editing I do is for size and orientation. If you wish to use any of my photos, I ask that you seek my permission first, and give credit either to Fairyscape Daylilies or Charmaine Payne. I would like to thank all that have visited and wish you health, happiness and most of all happy gardening.
Charmaine and Family