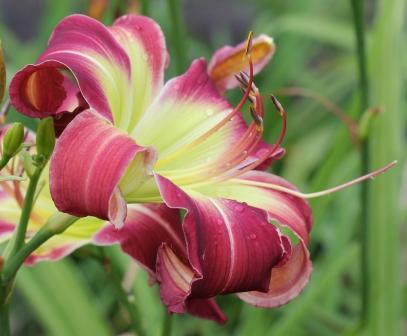 Greetings
My name is Charmaine Payne, after retireing from the military in 2011, I moved Fairyscape Daylilies to the Ottawa area. I recently completed a full-time program through Algonquin College. It has been both challenging and rewarding, though I must confess that I am very happy to have more time free to work on the daylilies. As soon as I wrote my last exam I got busy with the website.

The price list has been updated and over the next few weeks I will be adding photos of the various daylilies. So, with that in mind, I will endeavor to populate the website with needed photos. In 2016, many new and some older daylilies were incorporated into the list. Due to last summer having been very hot and dry, seed production was difficult and the ability of the plants to increase very limited. Several of the daylilies will require additional time for increase. This winter we have had great snow coverage and with it, moisture for the soil in the spring. Lets hope for a moist spring and summer.
I am taking orders for the 2017 year now. To place your order just send an email to Fairyscapedaylilies@bell.net to ensure there is stock available. If you have not heard from me within 24 hours please hit resend. At least a few times a year the server appears to redirect my emails to a spam box. So please, please persist! To any that may have had this issue please accept my most humble apologies!

The photos are from my garden. I do not adjust for colour or hide/improve the appearance of the flowers. The only editing I do is for size and orientation. If you wish to use any of my photos, I ask that you seek my permission first, and give credit either to Fairyscape Daylilies or Charmaine Payne. I would like to thank all that have visited and wish you health, happiness and most of all happy gardening.
Charmaine and Family