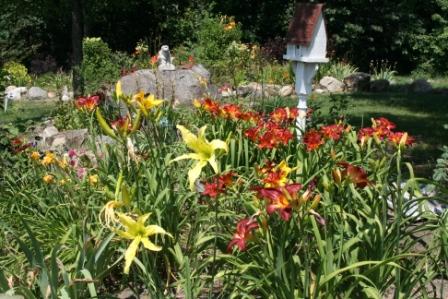 Greetings

My name is Charmaine Payne, and soon my thrid year with Fairyscape Daylilies will begin. I would like to thank all those who have loyally come back each year and welcome all the new folks to Fairyscape Daylilies. I am hoping this season will be kinder then last July's record temperatures and rainfall (or lack thereof). Last year I spent hours photographing all the daylily blooms and then the fall updating the photo's on the website. You will also notice that I added a page for each of the daylilies I successfully photographed.
This year will see the addition of many more new and exciting daylilies. The new daylilies will not be posted to the site till I know they can survive the winter and bloom in the second season. There have been a few that needed time to adjust from the southern US to an actual winter. Also, you will notice that I have left Michaela's seedling photographs posted. I have a few of them and I have lined some of them out and will see how they do this summer. The photographs are lovely but in time that page will change. I also would like to make seeds available this fall, if there are any crosses that you are interested in, I will do my best to accomplish them. Not all will be possible due to timing of blooms, extreme heat or rain.
Daylily supplies are limited, to avoid disappointment place your order soon. When ordering daylilies please send an email to Fairyscapedaylilies@bell.net with a list of your wants and desires and I will be happy to let you know which are available. If you have not heard from me within 24 hours please hit resend. At least once a year the server appears to redirect my emails to oblivion so please, please persist! To any that may have had this issue please accept my most humble apologies!

Charmaine and Family