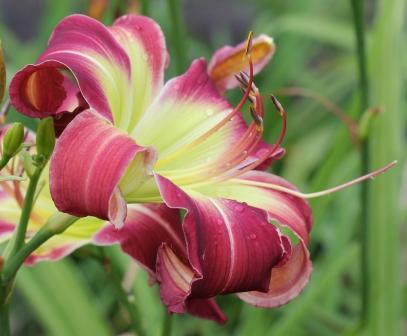 Greetings
My name is Charmaine Payne, I moved Fairyscape Daylilies to Ottawa in 2011. This season was late in starting, but I say height on the daylilies that I have not seen in the past. A number of them reached my shoulder and one above my head. I have been working on the reorganization of the garden this summer. I had started the process late last summer which was not appreciated by all the daylilies, so I have started earlier this year. This year I have again added many new cultivars.

Sorry for the delay in updated all the cultivars. THE thumb drive that contained everything Fairyscape Daylilies self destructed. I have been working to collect, complete and update my information and am now safely a month behind schedule. The lesson of this is, save information to multiple formats!
I will take orders for the 2015 year in the spring when I can do a count. I will update the website with photos and discriptions of the new cultivars through the next year. I would like to thank all that have visited and wish you health, happiness and most of all happy gardening.
Fairyscapedaylilies@bell.net If you have not heard from me within 24 hours please hit resend.
At least a few times a year the server appears to redirect my emails to the spam box and if I do not remember to go in and check every few days they are deleted. So please, please persist! To any that may have had this issue please accept my most humble apologies!
Charmaine and Family